Otto Neurath
(Viena, 1882 - Oxford, 1945) Filósofo y sociólogo austríaco. Después de dedicarse en su juventud al estudio de la Economía y de las Ciencias sociales, se licenció en Berlín en 1906.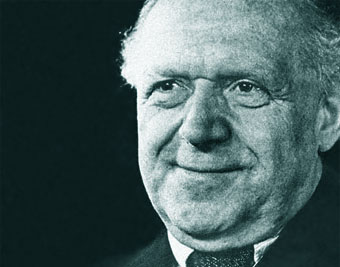 Otto Neurath
Muy pronto manifestó un vivo interés por la teoría, que no le impidió, sin embargo, dedicarse a un intenso trabajo cultural y organizativo. Fundó y dirigió en Viena el Gesellschafts und Wirtschatsmuseum y el Institute for Visual Education de Oxford. Fue el organizador de los Congresos para la Unidad de la Ciencia, celebrados en la década de 1929 a 1939. Emigró a Estados Unidos después de la ocupación nazi de Austria, y allí fue director de la International Encyclopaedia of United Science.
Se le considera uno de los exponentes más prestigiosos del Círculo de Viena. En el ámbito de la filosofía del lenguaje, se distanció de otros representantes de la misma tendencia, y defendió una especie de nominalismo llevado a sus últimas consecuencias, negando que científicamente fuese legítimo realizar investigaciones sobre las relaciones entre las cosas más allá de las proposiciones lingüísticas. Para el filósofo, todo lo que vaya más allá de eso desemboca en la metafísica.
Su pensamiento ha sido definido como "fisicalismo" -para diferenciarlo del de Carnap, conocido como "logicismo"-, y se caracteriza por su tendencia a llevar el lenguaje hacia el campo de la física; el propio lenguaje termina por ser considerado un hecho físico. Se interesó siempre por la vertiente práctica, mostrándose sensible a los problemas relacionados con la aplicación de los principios teóricos en el campo social. Se orientó hacia un relativismo según el cual la moral se desvincula de la obligación de referirse a un único principio universal.
En el plano político, un planteamiento de ese tipo se traduce en un cauto reformismo, que desconfía de las ideologías y que se adecua a la variabilidad de las distintas situaciones particulares. Entre sus principales obras destacan Antike Wirtschaftsgeschichte (1909), Sociología empírica (1931), Einheitswissenschaft und Psychologie (1933), Unified Science as Encyclopedic Integration (1938), Man in the Making (1939) y Fundamentos de las ciencias sociales (1944).