Nicholas Kaldor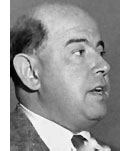 (Budapest, 1908 - Papworth Everard, 1986) Economista británico de origen húngaro. Profundamente influido por la economía keynesiana y de ideario socialdemócrata, intentó realizar una síntesis de la teoría de Keynes con los dictados económicos más clásicos y ortodoxos, a la que realizó una serie de aportaciones fundamentales sobre el crecimiento económico, la distribución de la renta y la política impositiva. En sus últimos años se distinguió por ser uno de los mayores críticos de la política monetaria practicada por el Gobierno conservador de Margaret Thatcher.
Kaldor cursó estudios universitarios en la prestigiosa London School of Economics, en la que posteriormente impartió clases entre los años 1932 a 1942. Tras dos años alejado de la docencia, en el año 1949 reemprendió su carrera académica en el King´s College de la Universidad de Cambridge, donde permaneció hasta el año 1975. En la década comprendida entre 1955 a 1964, Kaldor actuó como asesor económico para varios países (India, México y Australia entre otros muchos), ocupación que pasó a desempeñar para el Gobierno británico y para su ministerio de Hacienda en dos períodos diferentes (1964-1968; 1974-1976).
En su trabajo A model of Economic Growth (Un modelo de desarrollo económico), publicado en el año 1957 en la revista The Economic Journal, y posteriormente en el año 1960 en Essays in Economic Stability and Growth (Ensayos sobre estabilidad y desarrollo económico), Kaldor desarrolló un modelo que él mismo definió como keynesiano, que complementaba el propuesto por Harrod y Domar, y en el que trató de determinar la variación de la tasa de inversión en función de la tasa de beneficios. Es autor de una ingente cantidad de publicaciones, repartidas entre congresos, ponencias, revistas, ensayos y libros de divulgación económica.