Meredith Nicholson
(Crawfordsville, 1866 - Indianápolis, 1947) Novelista estadounidense. Se dio a conocer como escritor con algunos poemas y ensayos que no despertaron interés. El éxito le llegó con la novela titulada The House of a Thousand Candles (1905), un relato fresco y ameno que, en la más pura tradición picaresca, aprovechaba el feliz momento que por aquel entonces vivía la novela de aventuras para encaramarse en las listas de los libros más vendidos del país.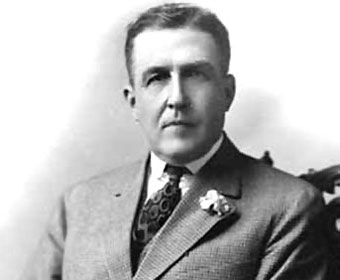 Meredith Nicholson
Tras este éxito conseguido por su primera novela, Meredith Nicholson continuó exprimiendo la misma fórmula. Entre los títulos más destacables de su obra en prosa, conviene recordar The Port of Missing Men (1907), The Siege of the Seven Suitors (1910) y Blacksheep! Blacksheep! (1920). Además, en su faceta de prosista escribió también una versión novelesca de su propia trayectoria vital, publicada bajo el título de A Hoosier Chronicle (1912).
Sus ensayos se reunieron en The Valley of Democracy (1918) y Old Familiar Faces (1929). Desempeñó también diferentes misiones diplomáticas al servicio de los Estados Unidos de América, que le llevaron a permanecer varios años en las delegaciones de su país en Paraguay (1933-34), Venezuela (1935-38) y Nicaragua (1938-41).