Julia Ormond
(Julia Karin Ormond; Epsom, 1965) Actriz de cine británica. Después de estudiar bellas artes en el prestigioso West Surrey College of Art and Design, trocó su afición pictórica por la teatral y se matriculó en la Webber Douglas Academy of Dramatic Art de Londres.
Dotada de un singular talento para la escena, pronto llamó la atención de la industria del cine, y logró su lanzamiento al estrellato en 1995 gracias a las tres películas que protagonizó ese año: Leyendas de pasión, de Edward Zwick, Sabrina, de Sidney Pollack, y El primer caballero, de Jerry Zucker.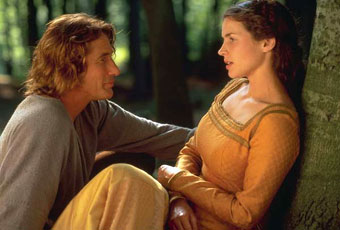 Richard Gere y Julia Ormond en El primer caballero
Pese a la confianza que Hollywood había depositado en ella, Ormond no pudo sostener el nivel comercial de esos tres filmes en sus siguientes proyectos, desplazada por otras actrices de su misma generación.
Consciente de las limitaciones que impone el cine de Hollywood, optó por hacer una incursión, con resultados muy positivos, en el cine europeo de la mano de Bille August (Smila, misterio en la nieve, 1997) y en la excelente producción rusa El barbero de Siberia (1998), de Nikita Mikhalkov, en la cual daba vida a una joven norteamericana enamorada de un joven oficial del ejército zarista. Al mismo tiempo, y con el deseo de desarrollar proyectos más personales, puso en marcha en 1997 la productora Indican.