Ice-T
(Nombre artístico de Tracy Morrow; Newark, New Jersey, 1959) Cantante estadounidense, una de las más legendarias figuras del Hip-Hop y del Rap californiano en los ochenta. A pesar de nacer en New Jersey, su familia pronto se trasladó a California, donde sus padres fallecen poco después en un accidente automovilístico.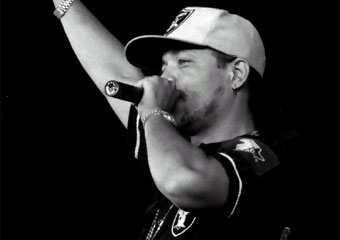 Ice-T
Cuando estaba en el instituto, empezó a interesarse vivamente por el Rap, y adoptó su sobrenombre en honor a Iceberg Slim, un proxeneta que escribía novelas y poesía. Poco después de la aparición de su primer álbum Rhyme Pays (1987), Ice-T se convirtió al islamismo. Sus canciones hablaban de la vida de los afroamericanos en los guetos, de violencia y de criminalidad.
Con su segundo álbum, Power (1988), logró su segundo disco de oro. Su estilo se asienta, con una música potente con toques Funk, una voz peculiar y unas letras audaces y políticamente comprometidas. Los temas centrales, al igual que en The Iceberg/Freedom of Speech... Just Watch What You Say (1989), son el sexismo, la violencia y la vida en los guetos. Esta crítica política en forma de hip-hop y rap se convertía así también en producto de consumo para la clase media blanca.
Su siguiente disco O.G.: Original Gangster (1991) se convirtió en su mayor éxito hasta el momento, valiéndole el sobrenombre de "Gangsta-Rapper". En 1992 vio la luz Body Count. En 1993 orientó su música hacia un público diferente, alejándose aún más de su audiencia de color y acercándose a los jóvenes blancos de clase media. Otros títulos de su discografía son Home Invasion (1993), Return of the Real (1996) y The 7th Deadly Sin (1999).
Como actor, inició su carrera en 1991 con la película New Jack City, de Mario van Peebles. También ha intervenido en Tank Girl (1995, de Rachel Talalay), Johnny Mnemonic (1995, de Robert Longo) y Pánico en alta mar (1999, de Jim Wynorski).