Henry Arthur Jones
(Grandborough, Inglaterra, 1851 - Hampstead, 1929) Dramaturgo inglés. Es uno de los principales representantes de la comedia burguesa, fundada en las convenciones del triángulo erótico y de la trama de desarrollo fijo que Sardou y Dumas pusieron de moda.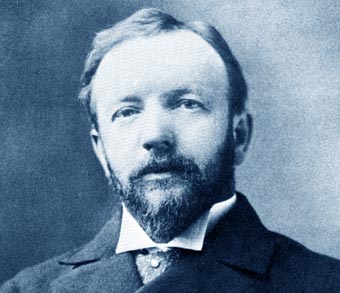 Henry Arthur Jones
Hijo de una familia galesa "dissenter", fue empleado de un negocio antes de afianzarse en la actividad teatral con los melodramas populares A Clerical Error (1879), en el que participó asimismo como actor, The Silver Ring (1882), escrito en colaboración con Henry Herman, y Santos y pecadores (1884), obra en la cual presenta la vida de la clase media inglesa.
A estas piezas siguieron otras comedias de carácter satírico-sentimental que llevan a la escena un problema o defienden una tesis, como The Middleman (1889), The Dancing Girl (1891), The Crusaders (1891) y El caso de la rebelde Susana (1894). La crítica social aparece acentuada en The Masqueraders (1894), The Triumph of the Philistines (1895), Mrs. Dane's Defence (1900) y Dolly Reforming Herself (1908).
Henry Jones consideró como sus obras maestras Michael and His Lost Angel (1896) y The Liars (1897), representada por Charles Wyndham y Mary Moore y contra la cual reaccionó Shaw, quien juzgó con desprecio el tipo del drama "bien hecho" y convencional.
A causa de sus opiniones políticas, que tras la guerra anglo-boer se mostraron netamente imperialistas, mantuvo polémicas con Shaw y H. F. Wells. Se le deben asimismo dos ensayos sobre el teatro: The Renascence of the English Drama (1895) y The Foundations of National Drama (1913).