Chris Isaak
(Stockton, California, 1956) Cantante estadounidense de música rock. Tras sus estudios universitarios formó un grupo de rockabilly al que llamó Silvertone junto al bajista Rowland Salley, al guitarrista James Calvin Wilsey y al batería Kenney Dale Johnson, los mismos músicos que le acompañaron posteriormente.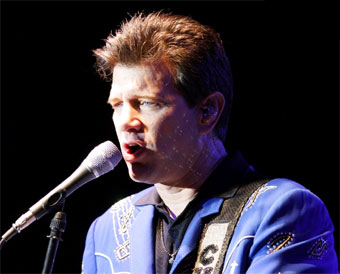 Chris Isaak
En 1985 apareció su primer disco, Silvertone. El disco contenía un total de doce canciones, todas compuestas por Isaak. Entre ellas estaban "Voodoo", "Pretty Girls Don´t Cry" y "Funeral in the Rain". Desde el principio fue clara la influencia que ejerció sobre Isaak la música de importantes artistas de los cincuenta y los sesenta como Elvis Presley y Roy Orbison.
En 1987 publicó Chris Isaak, su segundo trabajo, que incluyó la canción "Blue Hotel" y una versión del tema "Heart Full of Soul" de The Yardbirds. En 1988 tuvo una pequeña aparición en la película Casada con todos del director Jonathan Demme. En 1989 se publicó el trabajo que más fama le dio, Heart Shaped World. De ese álbum se extrajo la canción "Wicked Game", que se incluyó en 1990 en la banda sonora de la película de David Lynch Corazón Salvaje. También ese año participó en el filme de Demme El Silencio de los Corderos.
En 1991 también entró en las listas de éxitos con una nueva versión de su "Blue Hotel". En 1993 publicó San Francisco Days, álbum en el que interpretaba el tema "Solitary Man" de Neil Diamond. También ese mismo año tuvo un papel de coprotagonista en el filme de Bernardo Bertolucci El pequeño Buda.
En 1995 apareció Forever Blue, que contenía trece canciones originales de Isaak. Entre ellas estaban "Baby Did a Bad Thing", "Go Walking Down There" y "Don´t Leave Me on My Own". Un año más tarde publicó el disco Baja Sessions. Asimismo, en 1998 publicó Speak of the devil, en 2002 Always got tonight y en 2004 Chris Isaak Christmas.