Boney M.
Grupo de pop y música de baile nacido del laboratorio musical del productor Frank Farian que logró una efímera fama en la recta final de los años setenta. Fueron sus integrantes Bobby Farrell (1949), con su inconfundible voz grave y gutural, y las jóvenes Maizie Williams (1951), Marcia Barrett (1948) y Liz Mitchell (1952). Aunque los cuatro eran de origen caribeño, el grupo se ensambló en el país de su productor, Alemania.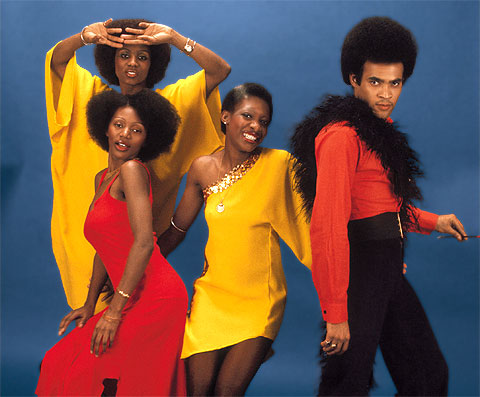 Boney M.
Con un inconfundible estilo disco, Boney M. lanzó en 1977 los singles Daddy Cool, Sunny, una versión de Bobby Hebb, Ma baker y Belfast. Bastaron estos cuatro temas y un primer álbum para que Boney M. llegara a lo más alto de las listas de media Europa, incluida Inglaterra. En aquel país consiguen su primer número uno con Rivers of Babylon (1978), una adaptación para pistas de bailes de un viejo tema tradicional de contenido religioso.
De Rivers of Babylon se vendieron dos millones de copias, lo que lo convirtió en el sencillo más vendido hasta la fecha después de Mull of kyntire de Wings. El álbum que contenía el single, titulado Night flight to Venus (1978), copó la lista de ventas por espacio de un mes. Hasta 1980, los lanzamientos de Boney M. se contaron por éxitos: otros dos álbumes suyos llegaron al número uno.
A mediados de los ochenta, tras lanzar un single que no entró en el top treinta, el grupo desapareció de la escena musical rápidamente y sin dejar huella, de la misma manera en que había entrado. Surgieron rumores de reunión a finales de los años ochenta, pero no se hicieron realidad. En los noventa, sin embargo, se lanzó una recopilación de sus éxitos en un revival de sonido disco, y las ventas volvieron a dispararse, claro indicio de la pervivencia del grupo más allá de su efímera carrera.