Arthur C. Clarke
(Arthur Charles Clarke; Minehead, 1917 - Colombo, Sri Lanka, 2008) Escritor británico, autor de notables novelas y relatos de ciencia ficción en las que destaca la presencia de una cierta reflexión de talante filosófico. Interesado por la ciencia desde niño, no dispuso de recursos para seguir una carrera universitaria. Su participación en la Segunda Guerra Mundial, alistado en la Royal Air Force, le permitió sin embargo entrar en contacto con la nueva tecnología del radar.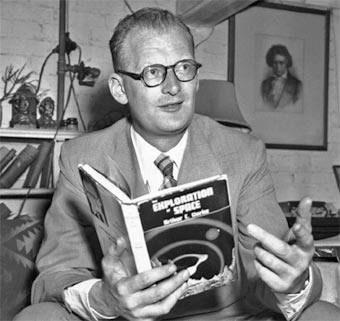 Arthur C. Clarke
Durante la contienda publicó sus primeros relatos sobre la conquista del espacio y, en un artículo aparecido en 1945 y acogido con escepticismo por los especialistas, predijo detalladamente el uso de un sistema de satélites para las telecomunicaciones. En estos primeros años como escritor usó el seudónimo de Charles Willis en tres ocasiones, y una vez el de E. G. O'Brien. Es especialmente conocido por obras como Luz de Tierra (Earthlight, 1955), Una catarata de polvo lunar (A Fall of Moondust, 1961) y Las fuentes del paraíso (The Fountains of Paradise, 1979).
Sobre la base de uno de sus cuentos cortos, "El centinela" ("The Sentinel", 1951), preparó junto con Stanley Kubrick el guión para el filme de este último 2001: una odisea del espacio, que apareció también como libro en 1968 y del que luego publicó dos secuelas en 1983 y 1988. El relato de Clarke insistía en la aparición de unas mentes superiores que, desde fuera de nuestra galaxia, se hacían indirectamente presentes en la Historia humana.
A la vez que empezó a ser reconocido como autor de ciencia ficción, desarrolló un considerable interés por la exploración submarina en Ceilán (la actual Sri Lanka), y relató sus experiencias en este campo en una serie de libros de los que el primero fue La costa de coral (The Coast of Coral, 1956). En 1980 ganó el premio Hugo de novela por Fuentes del paraíso. Poco después, una enfermedad degenerativa del sistema nervioso lo incapacitó para la escritura. Sin embargo, en 1989 publicó Días increíbles: una autobiografía de ciencia-ficción.
Clarke representa, como Ray Bradbury, una corriente trascendentalista de la ciencia-ficción, en la que se expresa una visible nostalgia de la presencia divina en el cosmos. Otras obras del autor son Odisea tres, Cánticos de la lejana Tierra, 300: odisea final, Cuentos del planeta Tierra, El león de comarre a la caída de la noche y Cita con Rama.