Archer Milton Huntington
(Nueva York, 1870 - 1955) Escritor e hispanista estadounidense. Gran conocedor de la historia y las letras españolas, su primera visita a España tuvo lugar en 1898, año en el que trabajó arduamente en las ruinas de Itálica.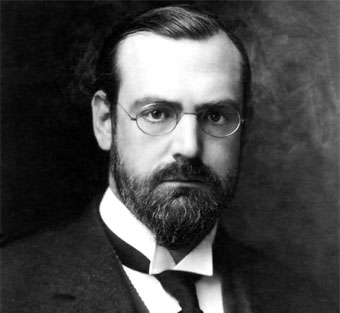 Archer Milton Huntington
Posteriormente centró su erudición en el estudio de las letras hispánicas; se encargó de la reproducción facsimilar de la primera edición de La Celestina (1499), así como de la edición del manuscrito de la Crónica rimada del Cid, conservado en la Biblioteca Nacional de París. Publicó además el Catalogue of the Library of Ferdinand Columbus (Nueva York, 1904), también llamado "índice numeral", sin duda una de las mejores obras sobre la impresionante biblioteca reunida en el siglo XVI por Hernando Colón, hijo del descubridor de América.
Archer Milton Huntington fue también autor de una brillante traducción al inglés del Poema de Mio Cid (1897-1903), obra capital de la épica medieval castellana, y de un dietario o libro de anotaciones publicado bajo el título de A Note-Book in Northern Spain (1898). Miembro correspondiente de las academias españolas de la Lengua y de la Historia, fundó la Hispanic Society of America.