Amy Irving
(San Francisco, 1953) Actriz norteamericana. Hija de Jules Irving, fundador del taller de Actores de San Francisco, y de la también actriz Priscilla Pointer, debutó en la escena a los nueve años, junto con sus padres. Vivió en San Francisco hasta 1965, año en el que se trasladó a Nueva York, al ofrecerle a su padre el puesto de director artístico del Lincoln Center Repertory Theatre. Después de terminar el colegio, pasó un año en su ciudad natal y después marchó a Londres, donde estudió en la Academy of Music and Dramatics Arts.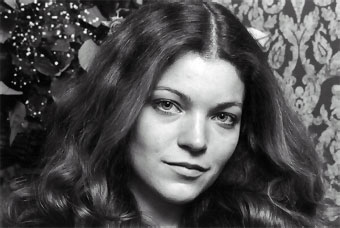 Amy Irving
Al regresar a Estados Unidos, su hermano, director de cine, le instó para que se presentase a unas pruebas cinematográficas y así resultó elegida para participar en Carrie (1976), película dirigida por Brian de Palma. Fue su debut en la pantalla. Dos años después volvió a trabajar con el mismo director en La furia.
En 1983 fue nominada para el Oscar por su trabajo en Yentl, película dirigida por la también actriz Bárbara Streisand. En 1988 participó en el doblaje de la película de dibujos animados ¿Quien engañó a Roger Rabbit?, poniéndole voz a Jessica, personaje protagonista femenino, cantante de un club nocturno. Este trabajo supuso su debut como cantante. Ese mismo año fue la protagonista de Cruzando la calle de Joan Micklin Silver, que fue un auténtico éxito de taquilla.
Otras películas en las que ha participado son Voces (1979) de Robert Marsowitz; Honey-suckle rose (1980) de Jerry Schatzberg; El concurso (1980) de Joel Oliansky; Pabellones lejanos (1983) de Peter Duffell, Micki y Maude (1984) de Blake Edwards, y Soft Target (1989) de Max Willutzki.
También ha trabajado en numerosas obras de teatro, medio en el que, según la propia actriz, se encuentra más a gusto; entre ellas cabe destacar The road to Mecca, Tres hermanas, El zoo de cristal, Heart-break house y Amadeus, que estuvo nueve meses en escena. Casada en 1985 con el director y productor Steven Spielberg, se separaron en abril de 1989. Tiene un hijo fruto de este matrimonio.